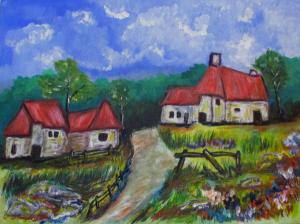 If you watch network newscasts, and read newspapers. One can become very depressed! The world is going to hell and a hand basket as the old saying.
Well for artists this is the BEST time ever! Why, you ask? Probably since the birth of the renaissance it has never been easier for artists. Let me
try to explain with a personal example.

I have always been a artist since my youth, however life got in the way and I never really pursued a career as a professional artist. In my entire lifetime
maybe only 20 people, family and close friends knew that I could draw or paint and had artistic skills.

In early 2017 after re-establishing a relationship with my adult daughters. (Life, heartbreak, separation, financial issues got in the way before, and I missed out on a large portion of their youth.) My girls remembered that I was an artist and questioned if I was still painting and creating works of art. One thing lead to another and before I knew it I was picking up the paint brush and pencils and creating visual works of art again. All due to their encouragement, and love! It wasn't long before I investigated the resources available on the internet, and again at my daughters suggestion's started on this wonderful artistic journey.

The disruption of the internet in all levels of our society truly has made it possible for artists to by-pass the gatekeepers and present their creations to the world! Now lets fast forward to 2019, utilizing the various platforms for artists, more than 60,000 people from around the world has viewed my artistic creations, and some have purchased original works, prints, and, home decor products. I am on the way to living off the income from my art sales. A long way to go, but on a positive trend upward as they say.

Yes, it is truly a great time for artists. Use social media, use sites like Fine Art America, and others. There are no more gatekeepers!