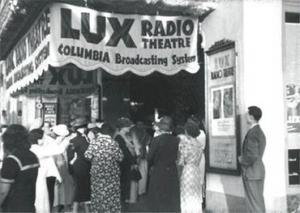 What if I told you that you could watch four or five movies in two to three hours? All in high definition, superb quality! No, I'm not talking about some new high technology or gizmo. Actually it is simply vintage tech, radio!

In previous postings I've expressed my love for vintage old time radio programs. I really love the drama plays, based on vintage period movies. The radio series Lux Radio Theater, Screen Directors Playhouse, and Screen Guild Theater to name a few. These series feature radio productions and most often the cast members from the original movies, along with the directors.

These talented screen play writers take a two or three hour movie and condense down to one hour or half hour radio plays. All the action, and excitement from the movie is retained and performed on a stage before a live audience. In some cases I prefer the radio play rather than the original film.

These are "movies for your ears", all in superb color! Your imagination creates the scenes. Don't be surprised if you find yourself clapping with the audience after a performance! Listen for yourself Mystery Play Internet Radio.