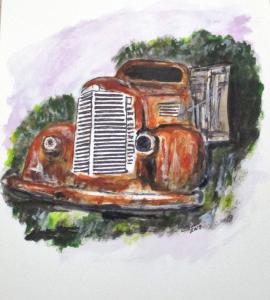 Introducing my new "junk car" illustration series. I have always enjoyed old vintage car photographs. Especially, the 1940's and 50's black and white photographs of vintage cars and trucks. When I was a boy, growing up in Indiana, we lived nearby a car junkyard, and I spent many hours playing around those fantastic rusting heaps. If we were lucky a car or two would still have the steering wheel and seats. Hours of racing in the Indianapolis 500 race way!

My imagination was filled with solving the mystery of why these old cars were there. Who owned them, what adventures did these cars endure?
Now all grown up maybe these old cars stand as a metaphor for our lives? As we grow old, and reflect back on our own lives. We were proud, and honorable in service to our families and society. Just like these vintage cars!

Using various photographs, I "junk" the cars up. Adding rust, and broken windows, but still attempting to keep the proud essence when new.
Abandoned and forgotten, but not lost, resting in wooded areas and fields, around the world. Weathered, and worn, resisting time, representing man's
mobile achievements.