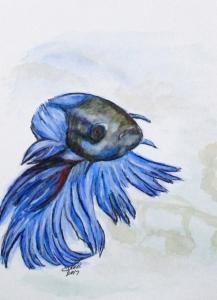 The other day I received a fantastic Christmas gift from a collector friend of mine. During delivery of a recent commission piece for his family he told me about a Christmas gift he gave to his young daughter last year.

Last year he commissioned me to create two water color works of his daughters beta fish for her birthday. During a shopping visit to Walmart his daughter was excited about a large pillow with a fish design. As a good father, he told her NO, and said wait for Christmas. This started him to think about something that would make an excellent gift for his sweet little girl.

After returning home, this wonderful father, remembered that I also place my works of art on various home and apparel products for purchase. He searched my various shops, and found the largest pillow, a floor pillow with the image of his daughters beta fish printed. The perfect gift!

Ordered, and shipped due to arrive for Christmas. However, they were visiting a relative's house during the Christmas season. He told his daughter that maybe Santa Clause will not know that they are out of town for the special day.

The story has he joyfully told me is as follows. His entire family involved themselves to create a tale of theft, house robbery, large foot tracks in the snow, Christmas gifts ripped off and all for his little girl. With glee, he said when they entered the victims house with his daughter by his side. There under the Christmas tree was the large floor pillow!

This collector friend, said that to this day, his little girl sleeps with that pillow of her beta fish, created by me. It's hard to tell this story without tears in my eyes. He doesn't know just how great of a Christmas gift he has given to me. A true artist Christmas gift! Merry Christmas and wishing everyone that reads this a very Happy New Year.