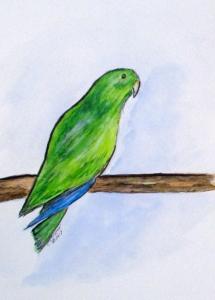 Our pets give us so much enjoyment and unconditional love. Dogs and cats provide hours of entertainment and cuddling when we did it the most.
However, exotic pets are also worthy of praise. Recently during a conversation with a collector he told me a beautiful story about their pet land turtle.

Marshal the turtle! As a Christmas gift I was commissioned to create a water color painting of this delightful turtle. With delivery of the piece, the collector said I captured Marshal perfectly. Scaly, and green and brown coloring,with Marshal munching on some pieces of Kale.

My collector said that Marshal provides hours of entertainment playing ball! Yes, he uses his head to flip and push these small multi-colored balls around the living room. Slowly, as a Turtle is only able to move, but none the less actively seeking each ball. This reminded me of an exotic pet that I had as a child.

My step father gave us a talking parrot, a miniature green Macaw. His name was Pretty Boy, and lived for five years with us. He would have lived longer, but my brother's young cat got at him. Pretty Boy's first words were cuss words, taught to him by I and my brothers of course this didn't please Mom! During a visit from my Grandfather, Pretty Boy displayed his knowledge of these words. My Grandfather, said that bird just called me an "SOB" oh this certainty embarrassed my mother.

Hours of entertainment, and unconditional love from Pretty Boy, in spite of his sailor language. Pretty Boy, would wake us up for school each morning.
He knew the exact time we needed to rise, with screams of "get up, get up, get up." He always figured out, how to get out of his cage and sit on top yakking and cussing at everyone. This is how the great battle between Pretty Boy and the white kitten happened. It was a horrible fight! Green and yellow feathers all over the house, and the cat had blooded peck marks all about it's head.

Exotic pets are just as enjoyable and loving in their own way as dogs and cats! Let's raise our New Year's day cup of cheer to Pretty Boy the parrot and Marshal the turtle, thank you for the love and fond memories.