April 27th, 2022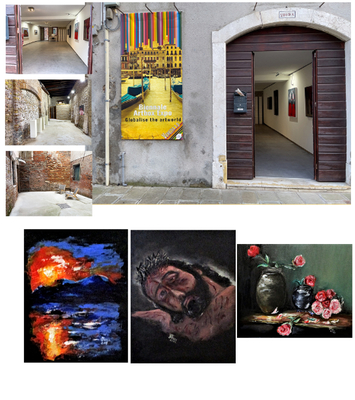 First of all, let me apologize for my lack of blog postings. As I have said before, I am not good with the written word. Maybe that is why I am a visual artist?

If someone had told me six years ago that my artwork would be on exhibition during the Venice Biennial in Venice Italy. I would have thought they had been smoking too much funny weed.

But it is true! Three works of art will be on digital display Artbox Projects May 01 - May 31 Tana Art Space, Fondamenta de la Tana 2109A, 30122 Venezia Opening hours: Tuesday - Saturday 11h00 – 19h00

The Venice Biennial, running from May to November each year, alternating between art and architecture, the Venice Biennial began in 1895, and now attracts half a million visitors a year. A celebration of art and architecture, the Biennial explores themes of politics and contemporary cultural & social issues through performance, sculpture, and installations. The Venice Biennial is one of the most prestigious cultural festivals in the world. During the run of the Biennial, various small galleries hold exhibitions outside and around the main pavilions.

Plus, my artwork has been on the digital display for April, in three separate galleries. Two galleries in Switzerland, URBANSIDE Gallery Zurich Switzerland, the Thomson Gallery - Zug – Switzerland, and the Lelie Galerij - Amsterdam – Netherlands.

Let me speak in a skeptical voice. But Clyde, these are only digital displays, and your artwork is included in rotation with other artists. That means your artwork will probably only flash on the screen for 30 seconds maybe two or three times per hour. Now how can that be an exhibition?

These past few years I have entered several online juries art contests and exhibitions, and have won various art awards. Here's the skeptic's voice again. Clyde, these are small online galleries with only a few thousand entries and are not affiliated with the major artist societies or organizations. My questions for that skeptical voice? How can an economically poor artist launch and endure a career in art? Should I wait to be discovered? Let me ask you why is it that only the so-called privileged only allowed to pursue an art career? Why must one pay to play?

My entire life has been to detest the word NO. I have always seemed to be blessed to find and surround myself with inspirational people. One such person was the late artist coach and mentor Paul Klein. I frequently hear his voice, "take baby steps."

These efforts are the baby steps for my career. The traditional methods of entering art contests and exhibitions are costly and prohibitive for me, including framing, shipping, and insurance. Membership in the various big-name artist societies and organizations is extremely expensive.

After exhaustive internet research, I found these organizations that support emerging artists around the world and offer physical brick-and-mortar exhibitions digitally.

When I began this art career journey I did not have an artist's resume. As of today, I can say I have a two or three-page resume. A listing of multiple award-winning exhibitions, online and physical. My next stage in this career is to obtain financing to pursue the traditional exhibition path. Grants, and more grants, all categories and purposes. However, each grant application required evidence of a professional art career and a resume! Now, do you see my purpose? Those baby steps will lead to leaps and bounds and a career sprint soon enough.

Let me ask you, how many artists from Oklahoma can say they have exhibited in Europe and especially during the most prestigious cultural festival in the world? Several artist mentors and coaches promote creating your own art world. I think I have done just that!