December 14th, 2018
Why is it that during the holidays we think about and remember moments and events of our youth? Maybe because this time of the year was always special for children, or at least it was for me. Seems like that as I age, I remember and cherish these childhood memories. One particular memory is special in a certain way. I'll tell you about it!

Every year during the Christmas season for some reason while I was growing up the television networks played the "Wizard Of Oz" movie. You know the 1939 version, the original! As a child growing up in the 1960's I loved that movie and looked forward to watching it every single year.
Well almost, and I'll tell you why!

I have two younger brothers, and of course was expected to act in a certain manner. Set a good example as my Mother would say. However, when it came to a certain scene in the Oz movie, I failed. It's those damn flying monkey's! When Dorothy and the others were in the haunted forest, and the wicked witch sent those monkey's after them. At that point the tears would begin to flow, and I would run screaming hiding under the bed. Those monkey's absolutely terrified me! Of course over the years my younger brothers teased me. Each year, "Here they come Clyde, get ready," it would happen, and I was running for the bed.

To this day, they bother me. I am 60 years old, the other day I was watching a new digitized clean version of the original 1939 movie. NO, I didn't go running for the bed, but there sure was goose pimples forming on my arms, and hairs on the back of my neck were tingling, as those damn flying monkey's appeared on screen. People monkey's are not suppose to fly!
December 13th, 2018
In previous posts I've spoke about my enjoyment of listening to old time radio programs. Especially while working, and creating my art. Another form of audio entertainment other than music really inspires me. This is audio books! Around 2012, I discovered the service audible.com, and have never looked back. Audible is a monthly subscription, for a fee you're given the opportunity to select among thousands of outstanding audio books. All the genre's are represented and even audio versions of classic publications. Your selections are held in an on-line library for later download.

I don't want this blog posting to sound like an advertisement for Audible, however the service is so good. I enjoy sharing a service or products the excite me. I use to be a avid reader, completing on average a book or two per week. However with age, these old eyes have quickly tired out! My reading days were coming to a close. Now thanks to Audible, I am back to reading (listening) to several books a week.

With my introduction subscription, my FREE book. I selected the very large William L. Shirer "Rise and Fall of the Third Reich", 56 hours in the audio format. In years past I had tried several times to read this excellent historical book, however, I would give up. The audio version was excellent! I was able to finish the book by listening to it for about two or three hours everyday. I've found other books that were difficult to read, but easy to listen and complete.
I don't watch network television, and with old time radio, music, and audio books, plus Netflix, and YouTube. My entertainment thirst is quenched on my terms.

Creating works of art, listening to my favorite book, or old time radio program, or watching a YouTube documentary. Hot damn life is good!
December 12th, 2018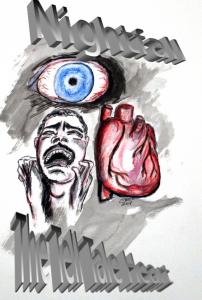 Long before I started creating visual art and starting a career as a visual artist. I always utilized my creativity with the programming and digital album creation of old time radio. As stated in previous posts and for those that have known me for awhile. I am absolutely passionate about sharing these thrilling nostalgic radio plays with the world. Working my way through various pieces of art work this passion for old time radio inspires my mind and creativity in my Pulp Radio Art series. Usually, when I'm working away in my studio, my favorite radio series is playing.

Ever since a youth one of my favorite American authors has been Edgar Allen Poe! The story of "The Tell Tale Heart" has always been enjoyable. It touches the core of being human, and draws the line between evil and good. Whatever we do, we can never run away from our conscious. In the story the man murders an old man because of his evil eye. However, he can never get away with the murder because he hears the beating of the dead man's heart. When you listen to the radio play, the sounds effects create such vivid images in your mind, far better than when reading the story. Listening to this particular story inspired me to create this illustration. I think I captured the spirit, what do you think?
December 12th, 2018
The other day a conversation topic came up that I had to think about and try to explain to a young twenty something guy. Why I love and listen to old time radio? He said do you miss those days, you're not that old? Just what is old time radio? Well after briefly explaining what old time radio is, dramatic radio plays from the 1930's, 40's, and 50's, and these were before television, etc. bla, bla, and bla, bla.

I then tried to answer the question of why I love listening to them. My very first time listening to a nostalgic radio program was sometime in 1978. I was serving in the United States Navy and stationed in Naples Italy. Only 19 years old and away from home for the first time, and living in a foreign country where I didn't speak the language. Each weekend the local military radio station would replay these wonderful radio plays from the 1940's and later. Drama, comedy, westerns, mystery, horror genre radio plays. I lived (off base) on the economy as they say in a small apartment alone! Instead of hanging out in the base club drinking myself silly. I stayed home and tuned in each weekend to these thrilling radio programs.

I soon recognized, a very familiar pattern of speech. Little phrases, and expressions were very familiar! This was the way my grandparents talked. For me it was like they were alive again. I was very close to my grandparents and miss them to this day. The generation of old time radio is the generation of my grandparents. References like "Hey Mert" and "save the fat" and "catch you on the beam". These were familiar and meant something to me. I heard my grandparents use these in their daily talking!

In answer to the question of why I love old time radio. I am once again in the presence of my beloved grandparents! Fast forward to 2001, I found old time radio once again on the internet, and soon discovered how to obtain, and collect these wonderful shows in mp3 format. Shortly there after, I created my own internet radio station sharing my love with millions of listeners around the world. Broadcasting for 18 years now, Mystery Play Internet Radio plays 24x7 on three channels all the genre's of nostalgic radio. http://www.mpir-otr.com