August 17th, 2019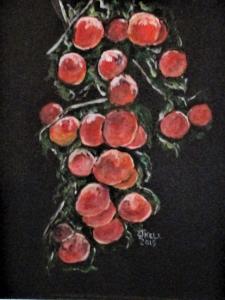 Where does the time go? It has been a few weeks since I last made a blog post. I have some very exciting news to share with you. When I started this artists journey, or rather when I chose to pursue a career in art. I enrolled in a professional artists career strategy on-line course. After completion, and
following the advice of various artists mentors and coaches. My pursuit of a career as a working professional artists was launched!

Two key strategies all artists coaches seem to suggest. One, pursue a relationship with gallery owners and directors, and two, enter in various exhibitions
through "artists calls", online or locally.

However for me a starving artists, finding the funds to pursue the recommend strategies can be really difficult. Plus, if and when you're accepted into an
exhibition or contests. The entry fee, can be anywhere from $15 to $50 dollars and seems to always be non-refundable. Not a lot of money,
but terribly expensive for one living on a tight budget!

Out of frustration with my situation, I made the bold statement of "the galleries, and art market was going to have to come to me". I have then followed an
internet only method of marketing my art. Through social media and various artists platforms throughout the internet. I have presented my works of art to
well over 100,000 viewers!

My method of madness has worked! During the month of October one of my pieces will be entered in a group exhibition in a gallery in Zurich Switzerland. In true internet fashion the digital image will be displayed inside the gallery walls on large 55inch monitors.

Plus, I was invited and have been accepted to enter 25 pieces of work in an international online art competition. The key thing to remember is that these are no-cost exhibitions for emerging artists, and they FOUND me. They contacted me through my artist sites, and social media!

There is hope and opportunity for a poor starving artist, if you stay the course. Keep faith with yourself and continue to create!