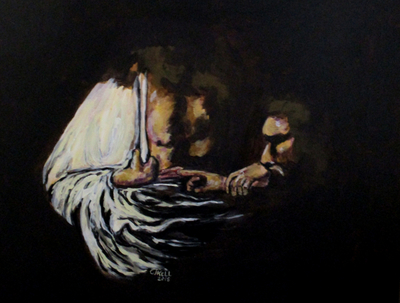 With my last blog posting, I made the statement this art career is simple. I said simple, not easy! The art career strategy that I have pursued is unique to me and my situation, so it may not be suitable for you.

First of all when I convinced myself that it was possible to have an art career and that just maybe my art was good enough, and people may want to display it in their homes. I had to educate myself about the "art market", of which I knew nothing about. I had grandiose thoughts of putting my works of art in galleries and maybe participating in local art shows, etc. After researching the internet, and watching hours upon hours of videos from art coaches and mentors. It became clear to me that I had a very large mountain to climb.

I happened upon a video talk from the late Paul Klein and enrolled in his artist career strategy course. Klein Artist Works Paul was able to clarify any misconception I had about an art career and to help me prepare a strategy and pathway to success.

Reality sets in! The recommendations were wonderful and precise, however, they were not exactly for me. They involved developing relationships with gallery owners and joining art organizations, etc. This involved money and time I did not have! Most of the potential collectors and career makers traveled in higher economic circles.

Depression, depression, and a feeling of loss, my career will never get off to a start. To become a successful artist you have to be rich, come from the upper class of society. At least that is what I thought at the time!

In conversations with my adult daughters, and family members. I explained and complained that maybe there was no chance of becoming a success. They encouraged me to at least create art for them, and my eldest daughter asked what about the internet? You're good at using the internet to your benefit.

Research and more research, more videos to watch! I'm not going to detail here specific information I discovered because this blog posting would become too long. But after hours of soul searching, prayers, and serious thought I came up with a personal strategy that appears to be working.

Remember I said "simple, not easy".

1. I needed to improve my craft and artistic skill. Explore different mediums, and creation techniques, and keep my eye on the larger goal and honest self-evaluation. (I enrolled in a few economically priced professional art courses.)

2. I discovered there are hundreds if not thousands of online juried art competitions and exhibitions throughout the year. After the pandemic hit, that number has increased dramatically. (I planned and entered my artwork in some of those exhibitions.)

Disaster, depression! I spent a cumulative of 70 dollars over three months and NOT ONE piece of art was accepted! The application fees are not refunded. This is a scam, it's a way for them to rip off hard-working artists. That money was needed, I sacrificed to come up with the fees. Back to step number one. Knuckle down on my art skills, and talk to myself, and lots of prayers and self-reflection.

Success! In September of 2019 my piece "Doubting Thomas" was accepted and won a special recognition award. The first time, any of my art has won any kind of award since I was 14 years old. (Notice the title of the piece! Someone was talking to me, and I needed to settle down and listen.)

3. To pursue the plan of entering physical exhibitions and galleries I needed funds. Plan and apply for artists' grants. I am now at this stage of my career strategy. I still need to continue with steps one and two, however, I now have enough competition and exhibition awards under my belt as they say to fill up two double-spaced pages. I never really considered how much I had achieved until recently while completing a grant application. They required a one-page artist's resume. I had to edit down to single space.

What a nice feeling!

Let's wrap this long-winded blog post up. I said simple, not easy, do you understand now? As a side note, the recommendations from Paul Klein were valid and useful. I just modified them for my career pursuit. Your art career is available, and the art market is what you make it. It's all up to you, and if one door is closed then find another. When you encounter doubters and negative feedback, and maybe people that want to discourage you. Hold your right or left-hand high, whichever you favor. Extend that
proverbial middle finger, and go about your business!