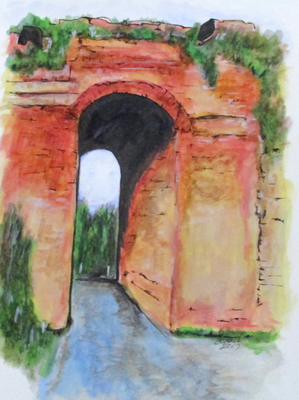 With this art career, I have crossed the Rubicon! Do you know the ancient Roman maxim that means a point of no return? Smoking my tobacco pipe, and thinking about this art career, while watching a historical documentary, crossing the Rubicon popped in my head.

I am about to toot my own horn, and start bragging! Almost four years ago there were only about ten to fifteen people in this world that knew I had artistic talent, family, and close friends. The relationship with my daughters had been strained and separated for several years. My little girls had grown up without me in their life. However, I always had them in my thoughts and prayers, and thankfully for the internet and video calling technology our relationship was re-kindled. As young beautiful adult women, they were curious about me, and what I was doing with my artistic talent. My daughters remembered my drawings and sketches I made for them when they were little. With their loving encouragement, I began to draw, paint, and sketch again. Reviving old brain cells, shaking hands, using skills that have been dormant for over 26 years.

Then I had a crazy idea enter my thoughts! I had always worried about leaving a legacy. When I depart this earth I wanted to leave something of value to my daughters. Could it be possible with my works of art? This is the genius of my art career pursuit. These past four years I have followed specific strategic planning and continued to work on my craft, and skill set.

I am a professional artist! If I were to die today or to quit creating art. My daughters will inherit my legacy of works of art. I have created over 400 works of art, and have been accepted in and exhibited in over 25 international art competitions, winning special recognition and excellence in art awards. As an emerging artist in the parlance of the art world. My career is on a positive upward trajectory.

Yes, I have crossed the Rubicon. This artist's life is something that I use to dream about from my youth. Time to stop bloviating, and if you're an artist wanting to start an art career.
Send me an e-mail note, and I'll tell you specifically what steps I've taken. You'll be surprised at just how simple it was.